A multicultural treat for the taste buds took place at the Yangzhou Exhibition Center from Sept 23 to 26, as chefs, cooks and culinary creatives from across the Silk Road descended on the historic city to serve up their local delicacies.
Yangzhou has a long and extensive history with food, having been one of the birthplaces of Huaiyang cuisine, one of China's four major cooking styles. As a result, the city has hosted the Silk Road Cuisine Carnival for the past several years, each time highlighting a different Silk Road country's food culture.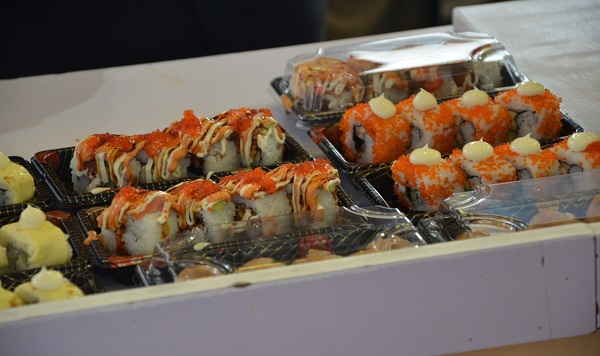 Sushi rolls from Japan. [Photo/provided to chinadaily.com.cn]
The year's focus was India, and so a smorgasbord of delicacies and treats, such as curries, kebabs, rotis and tea were on offer, scintillating the taste buds with exotic spices, scents and aromas.
As well as Indian food, some 50 different Silk Road specialties were served up including pizza from Italy, churros from Spain, and sushi from Japan. Homegrown classics such as stinky tofu from Chongqing, oyster omelets and hairy crab had attendees coming back for more until they were fit to burst.
This year's festival had doubled in size from the previous year, representing a great opportunity for Silk Road countries and regions to get their produce noticed in the growing Chinese marketplace.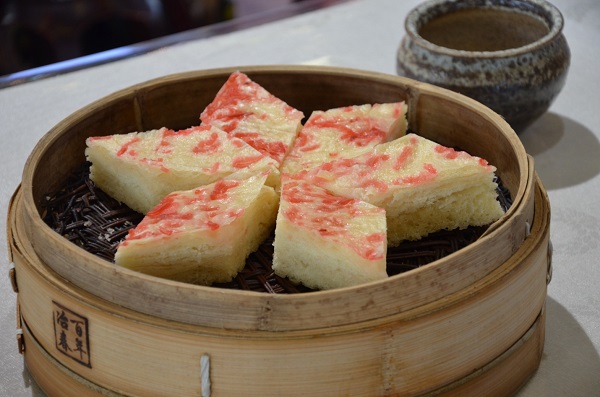 A steamed thousand layer cake (qianceng gao). [Photo/provided to chinadaily.com.cn]
The festival wouldn't be complete without paying homage to the cuisine from the city where the expo takes place, Yangzhou. An entire section of the exhibition hall was dedicated to yangzhou's culinary classics such as crab roe soup dumplings (tang bao), steamed buns stuffed with diced pork, chicken and bamboo shoots (sanding bao), steamed thousand layer cake (qianceng gao), and of course Yangzhou's famous fried rice.
Silk Road Cuisine Carnival celebrates Yangzhou's 2,500 –year history and for it being a key meeting point on the overland and maritime Silk Road.