Yangzhou is bidding to lure more visitors to the historic city in Jiangsu province by launching a new tourism card offering bigger discounts on more venues than ever before on Sept 26.
While the city's original tourism card only catered to locals, the new version will enable both locals and visitors who purchase the card to visit a host of attractions anytime they want for free within one year.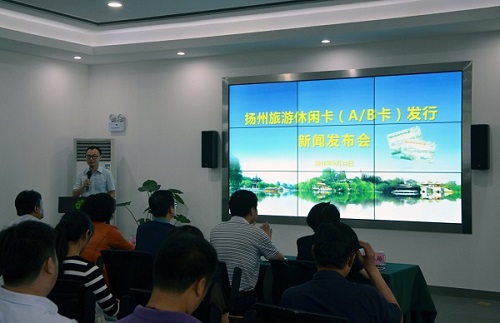 An official from Yangzhou's tourism bureau introduces the new tourism card during a press conference held at the Yangzhou tourism bureau offices on Sept 24. [Photo by Wang Jia/chinadaily.com.cn]
Prices for the new card will start at just 238 yuan ($35.6) per person, with a more expensive option giving access to more venues costing 298 yuan ($44.6) per person.
The cheaper card will give cardholders free access to seven famous tourist sites, including the Slender West Lake, Geyuan Garden and Heyuan Garden.
Visitors who pay for the more expensive card, meanwhile, will get access to a further 24 attractions, including the Tang Dynasty City Remains Museum, Wu Daotai Residence and several sites in the counties of Baoying, Yizheng and Gaoyou.
If a cardholder visited all the sites once, he or she would save 700 yuan ($105), more than double the price of the card.